Troubleshooting Tip 1: My cells look overstained. What should I change?
My cells look overstained. What should I change?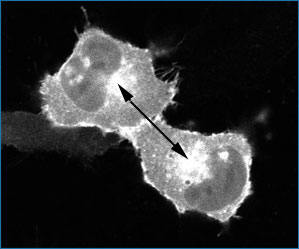 Problem

This micrograph shows cultured mammalian cells that have been stained using standard immunofluorescence techniques and visualized with a laser scanning confocal microscope. Cells look overstained, i.e., the fluorescence intensity values are saturated in the perinuclear region (see arrows pointing to regions that look very "bright"). Such overstaining phenotype can arise from the immunofluorescence protocol itself or from the image acquisition process and image display used.

Possible Causes and Solutions

I. Immunofluorescence-related problems.

Is the antibody appropriately diluted? The amount of primary and/or secondary antibody you are using might be too high.
Perform a series of dilutions (for example, 1:200, 1:500, 1:1000) where you vary the amount of the fluorescently-conjugated secondary antibody and in which the amount of the primary antibody is constant.
Repeat the experiment by keeping the amount of the secondary antibody constant and you now vary the amount of the primary antibody. This will allow you to identify the optimal antibody dilutions to use.
Another possibility is that the cells are not adequately blocked prior to and during antibody incubations to avoid the nonspecific binding of the primary and/or secondary antibodies which would otherwise increase the background.
Always block cells with a blocking agent as a separate step before addition of the primary antibody incubations, such as 1% bovine serum albumin (BSA)/PBS or 5% serum (typically fetal bovine serum (FBS) or goat serum) in PBS.
Make sure that the serum will not cross-react with the secondary antibody.
Dilute the antibodies in blocking agent before adding them to the sample.

II. Image acquisition/image display-related problems.

Did you collect the images within the dynamic range of the detector? All current image acquisition softwares include a pseudocolor image display mode (also known as lookup tables, LUT) that facilitates adjustment of the dynamic range.
When you scan your sample you need to adjust the detector gain so that the brightest pixel in the image is slightly below white (gray level = 255) in an 8-bit system.
If the image is saturated, turn down the detector gain or lower the excitation light levels. Even if you acquire images within the dynamic range of the detector, make sure that you do not modify the intensity histogram of your image when you display the image. You might think that using the "autocontrast" function will improve the contrast of different features in the cell but it might actually change the intensity distribution in a way that values are now saturated. Again, try to use a LUT to make sure that pixels are not saturated.

Further reading

More information on immunofluorescence microscopy and immunofluorescence staining protocols can be found in Current Protocols Essential Laboratory Techniques, Unit 9.2 and in Current Protocols in Cell Biology, Unit 4.3. For information on basic confocal microscopy have a look at Current Protocols in Cell Biology, Unit 4.5.

Contributed by: Manos Mavrakis